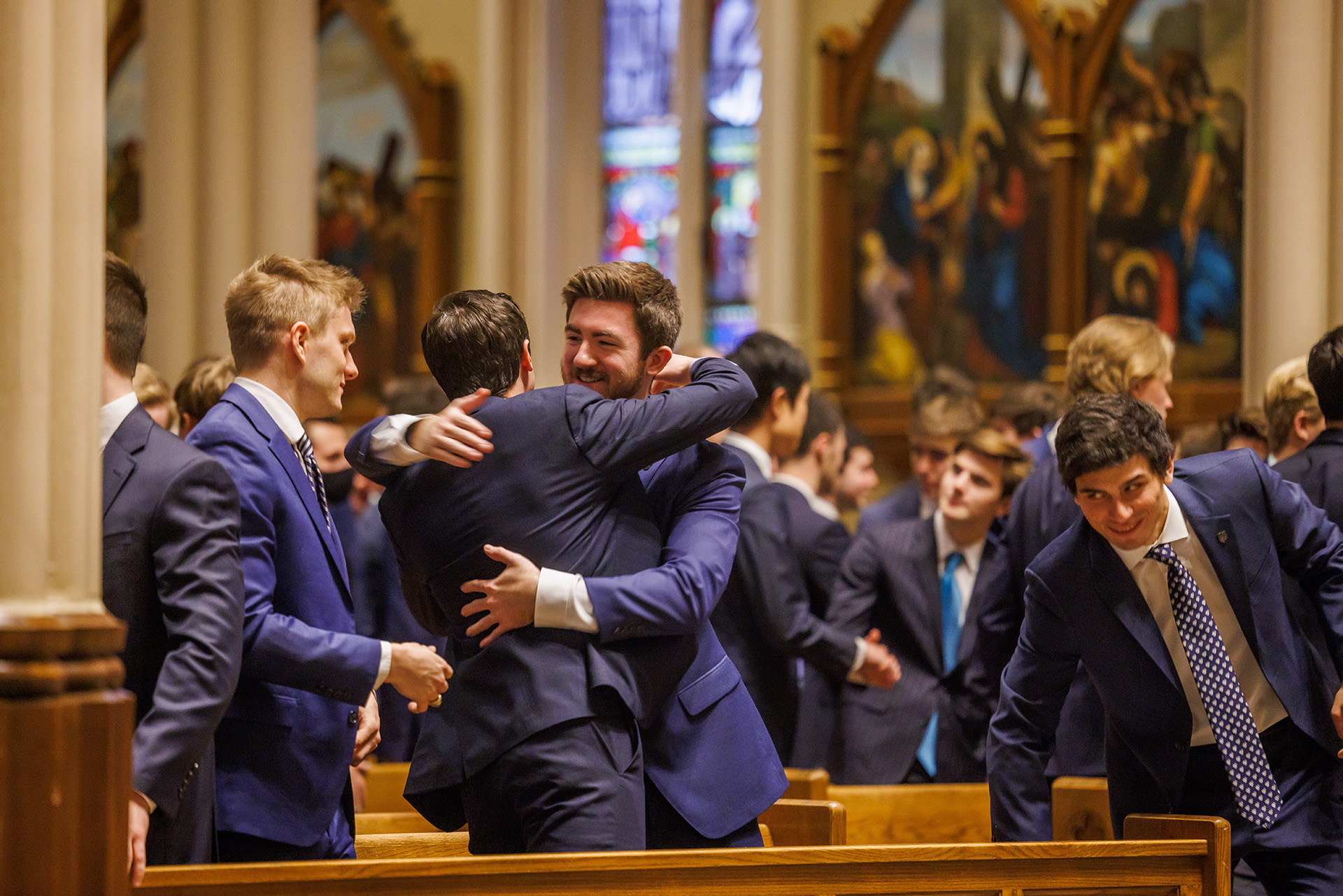 About Us
We are Dunne Men! Dunne is now rolling into its seventh year, and is attracting quite a bit of attention around campus. We are proud of the culture and community we have developed over our relatively short history, and just as proud of the incredible signature events we have put together. We hope whoever comes through Dunne's doors will be just as willing to contribute to the community and as willing to maintain Dunne Hall's status as one of the premier dorms on campus. The men of Dunne look to the future and are excited to see what it holds for us!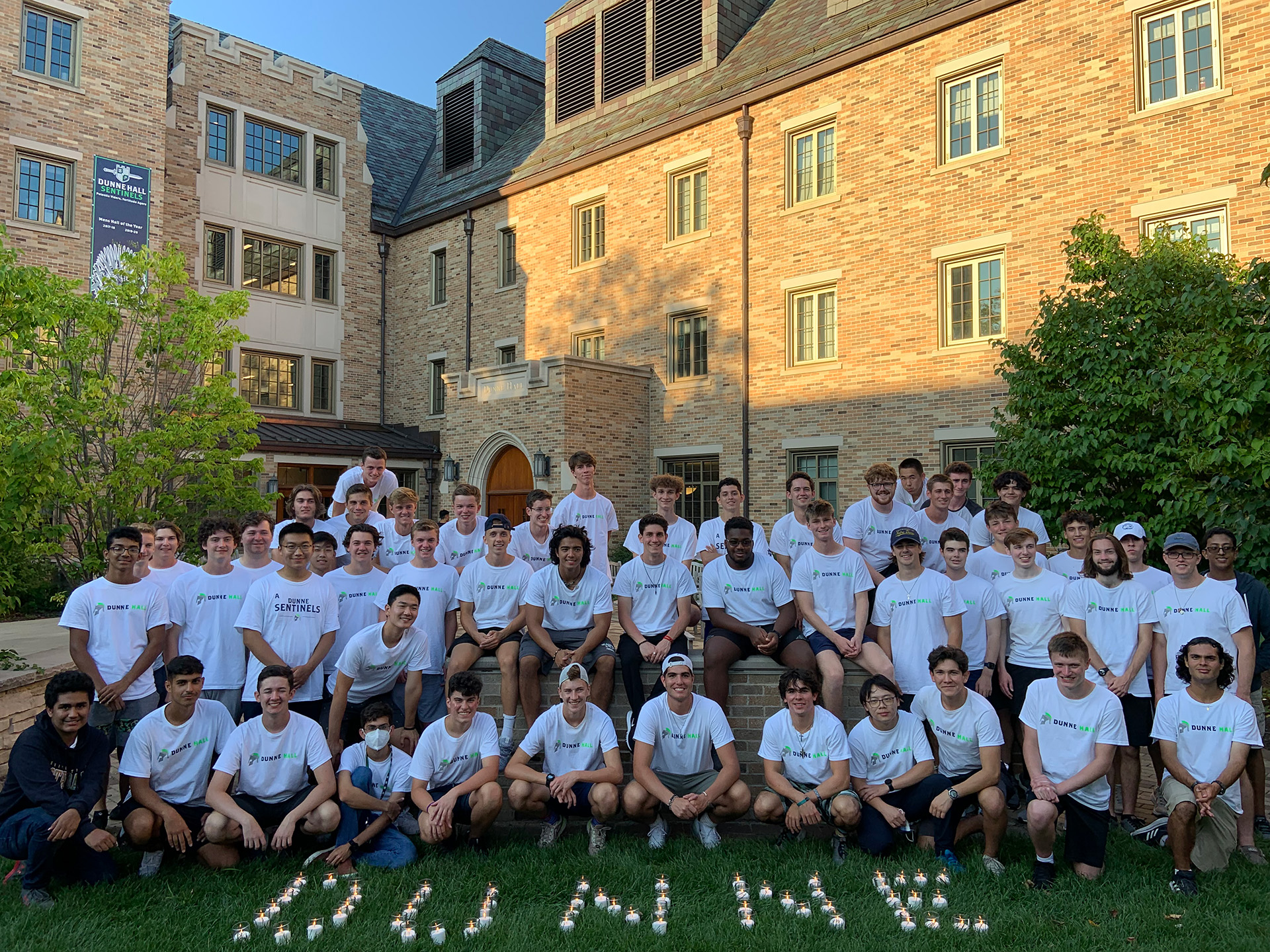 Mascot, Motto and Colors
Dunne Hall is the home of the Sentinels. Since our hall is located near the east gate into campus, a guardian or watchman was a fitting symbol. In addition, Dunne Hall's motto is Potentia Videre, Fortitudo Agere "the competence to see and the courage to act." The motto comes from the Constitutions of the Congregation of Holy Cross. For us, it means that in Dunne Hall we grow in our ability to recognize injustice and understand life's challenges, and then we work to make the world a better place, supported by our brothers. A sentinel is a watchman and so he must keep vigil and keep watch for danger as well as act when necessary to protect others and raise the alarm.
The Sentinels strive to live with "Potentia Videre Fortitudo Agere," or "the strength to see and the courage to do."
Dunne's colors are Quad Green, Hesburgh Blue and Stonehenge Gray. They embody our identity and mission. Quad Green reflects our brotherhood forged as we enjoy sports, cookouts and music on the lawn in front of our hall. Hesburgh Blue calls to mind the blue waters of the reflecting pool outside of the Hesburgh Library and represents the wisdom and knowledge our residents gain as they study there, developing the "competence to see." In six years as a dorm Dunne has produced 2 Valedictorians. Stonehenge Gray echoes the bravery and sacrifice of the men and women who are memorialized in the Clarke Memorial "Stonehenge" Fountain inspiring us to have the "courage to act."
Traditions
Although still a nascent dorm in ND history, Dunne has already grown to embody a host of student led traditions. A few of these are Tuesday night Pizza Mass, PDR, Third Floor Core (pictured above), Fourth Quarter Skins, the Grotto Gang, hall-wide trivia, Futon Friday, and, of course, winning. Since we are so young, our traditions are still forming and each successive class of students enjoys the ability to create and develop them in unique ways.
History
Tai Verbrugge, Nick Wilt and Jim English were elected as the Hall's first leadership team shortly after its opening. Matt Donohue was elected as Senator, while Will Trapp was elected as SUB Rep. The Sentinel was chosen as the official mascot of Dunne Hall shortly thereafter. The Sentinels convened for Hall Government each Wednesday night (now on Tuesday), and for Mass each Sunday at 4 PM (now at 4:30).
Dunne's first year of events got off to a good start, with two SYRs: "Famous Couples" and "Aspen in the 80s". The latter was followed by a dorm-wide ski trip to Swiss Valley in Michigan. The Sentinels celebrated their annual signature event, The Dunne Funne Runne, for the first time in 2017. The charity race was a 3k, three-person relay where costumes/themes are encouraged and a carnival atmosphere pervades all, including a pie-eating contest, hot dogs, ring toss, inflatables and more.